Here are all the bookshops (and some other venues) that are participating in Feminist Book Fortnight 2022. We'll be adding more all the time. Do support these bookshops – most have a webshop and if they don't you can support indie bookshops by buying on line at bookshop.org, which supports indie shops, is based in the UK, pays it's taxes….you get the drift.
Like The Bound in Whitley Bay, The Accidental Bookshop is owned by Forum Books in Corbridge. It too opened in 2022. Do support them! Follow on @ForumBooks
Another new indie shop, Pop up shop at the moment. Back To Books is an independent bookshop for Birmingham bringing you diverse voices, sharing different stories. Check out their appearances on Twitter
Another new bookshop for the Midlands, this one specialising in children's books. Bear Bookshop aims to be a place that develops and encourages a child's enjoyment of reading, love of learning and sense of wonder. More than just a bookshop, we want to be a community resource, a place where your children can listen to stories and find books and resources to nurture their interests and help them to learn about the world around them. Follow them on Twitter and Facebook
Another new shop opened in 2019. New books, and antiquarian. You can check them out on Twitter here.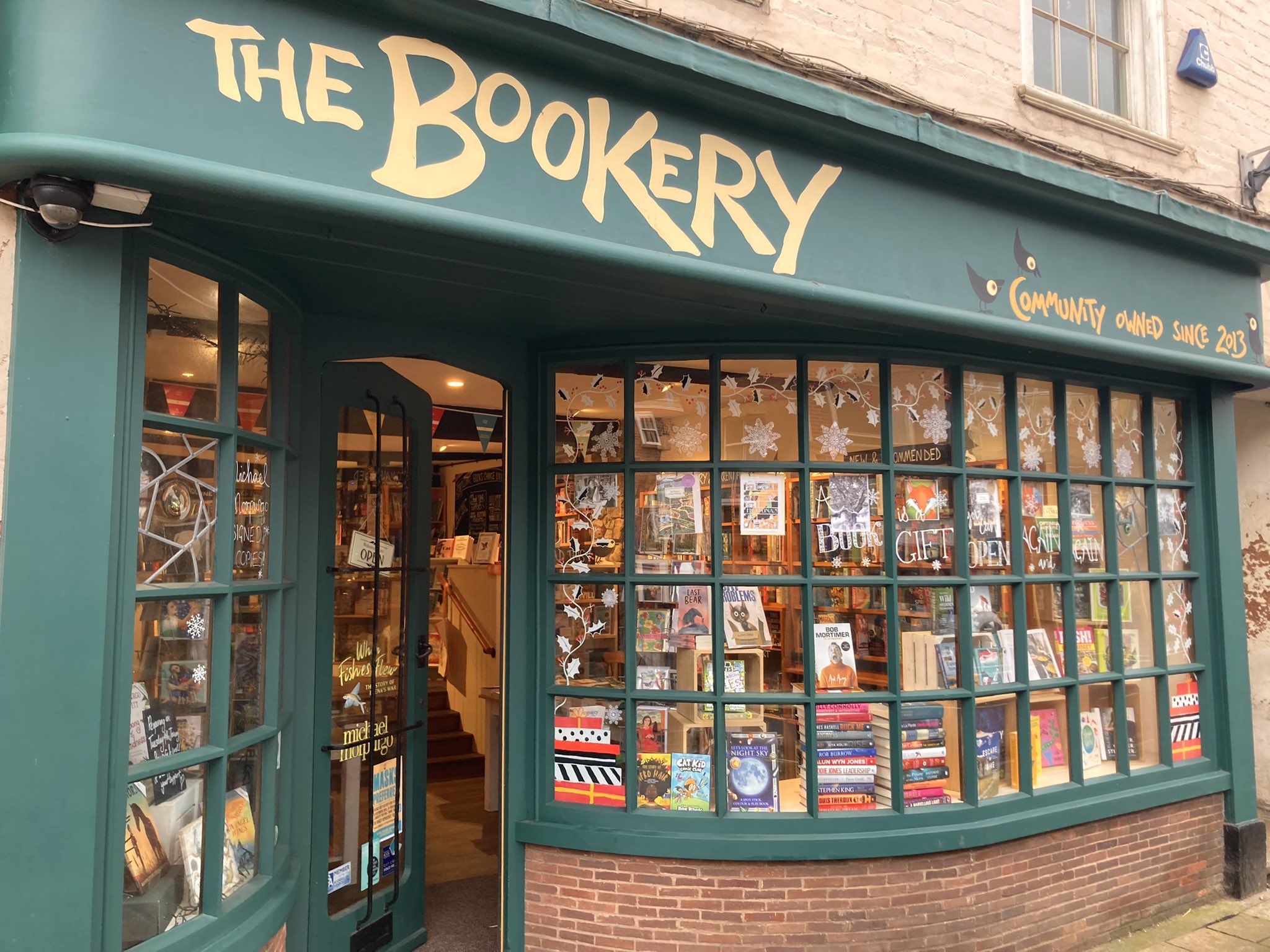 Previously Crediton Community Bookshop, this gem became community owned in 2013 and has over 300 shareholders. In 2016 they moved to the larger Grade II listed building, their current home. It is now called The Bookery, a not-for-profit independent bookshop that hosts a range of events and actively pioneers programmes supporting literacy, community well-being and access to cultural & learning opportunities.
We believe that brilliant books change lives.
We believe in the value of creativity.
We believe in the power of stories.
We believe that books are a robust, cultural artform.
We believe in equal access to lifelong learning and cultural opportunities.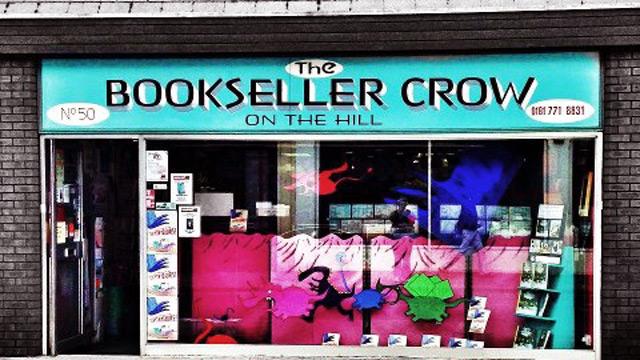 Once described as "shabby but wonderful", the Bookseller Crow is a bookshop on a hill, in South East London. Well tasty. Their irreverent Twitter account can be found here.
Brand new in 2022! Vera creator Ann Cleeves cut the ribbon at the launch of this brand new bookshop in Whitley Bay. The shop in Park View is owned by Helen Stanton of the much-loved Forum Books in Corbridge who has decided to branch out in response to demand from regular customers. Follow on Twitter @ForumBooks
One of Britain's newest indie bookshops and a very fine one at that. Friendly knowledgeable staff and a wide ranging events programme. You can follow them on Twitter and Facebook.
Regional Winner of Independent Bookshop of the year 2018 & 2019. A quaint & quirky place to buy books…only not so little now as they have expanded! They have been with Feminist Book Fortnight from the beginning. Follow them on Twitter here.
Another of the many indie bookshops that opened in 2019. Hurrah! The Feminist Bookshop is an independent bookshop and plant-based café based in central Brighton. The shop opened in November 2019 following a successful crowdfunding campaign. They stock a range of books written by and about women, host events celebrating female artists and provide a space to talk about the issues that affect us – all while sipping delicious coffees and cakes sourced from awesome female-owned businesses. Twitter and Facebook keep you up to date.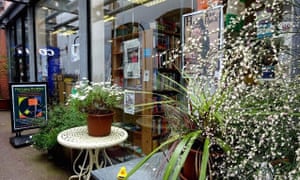 Nottingham's radical independent bookshop. Runs 80 plus events a year. Winner 'Best independent bookshop' 2018. "Amazing bookshop with a lovely atmosphere, helpful knowledgeable people who know their trade." (One of their customers.) Follow them on Twitter or Facebook. You can check out their on line event recordings here on their Youtube channel.
Eclectic, original and endlessly enthusiastic, Forum Books is an award winning independent bookshop situated in the heart of Northumberland. Catch them on Twitter. During the pandemic they opened 2 more shops, The Bound in Whitley Bay and The Accidental Bookshop in Alnwick. Hurrah! They are listed separately.
Gallovidia Books is an independent bookshop newly opened in the colourful harbour town of Kirkcudbright -. Scotland's Artist Town. We're a friendly, bustling community in the heart of rural Dumfries and Galloway, nestling between the rugged Solway Coastline, and the gentle rolling hills of the Galloway countryside.
Our shelves are selectively curated with brand new quality books on everything from ancient Scottish history to much loved page-turners and the very latest releases. Our booksellers are always ready for a 'booky blether', and to act as a friendly matchmaker for you and your next favourite author.
Not-for-profit indie bookshop based in Kings Cross, London since 1959.Housmans hosts regular events and specialises in radical books, zines and periodicals. You can find their Twitter here
We are passionate about imagined things and the books that contain them. We think there is nothing better than browsing for your next read in a physical bookshop, and that nothing compares to flicking through the pages of an actual book. There is nothing better than connecting with the people behind the books: the authors. We hold a variety of author events including signings and evening events, adding to the already strong literary roots of the town.
Imagined Things is thoroughly independent, and we strive to offer something very different.
Juno Books, Sheffield – new bookshop being launched in Feminist Book Fortnight!
Juno Books is an independent feminist and queer bookshop, based in Sheffield, South Yorkshire, opening online and at markets mid 2022.
Juno Books was born of our mutual love of literature, our passion for inclusive and intersectional feminism, and our desire to support a greater representation of women and marginalised voices in the world of books. We want to challenge and break down stereotypes surrounding these groups in the literary space by stocking a carefully curated selection of literature and genres written predominantly by, for, or about women and other marginalised folk. We are particularly keen to raise up lesser known writers by bringing you the best that local and independent presses have to offer, and carry this work alongside more established writers, with whom we are all familiar.
Our aim for Juno Books is to create a community of feminist booklovers and to offer a safe and welcoming place for our readers to discover their new favourite book.
We are thrilled to have opened a 'proper bookshop' following the success of our limited book selection at Kemps General Store over the last 3 years. Our bookshop offers a carefully curated selection for books for everyone, including a wide selection of children's books.
We'll also be hosting a range of events, including book launches, workshops and other unique activities in our beautiful store and on our outdoor terrace.
For more information and updates about our upcoming events, you can follow us on Twitter or contact us here.
An independent community bookshop on the radical left, politically engaged and socially conscious. Lighthouse celebrate diversity of thought and expression, championing voices from the margins. Check out their very cute dog Artemis here.
Americans abroad, with an award-winning independent bookshop. Offering a hand-picked selection of new books, and a scattering of old & fine press books, too! We're a bookshop unlike any other, with a unique selection of favourite titles, secondhand books and a special selection of antiquarian treasures.
In 2019 this bookshop was the regional winner for London in the Independent Bookshop of the Year awards. "Newham Bookshop is an oasis of welcome and joy in one of east London's poorest areas." Wide ranging stock. Welcoming.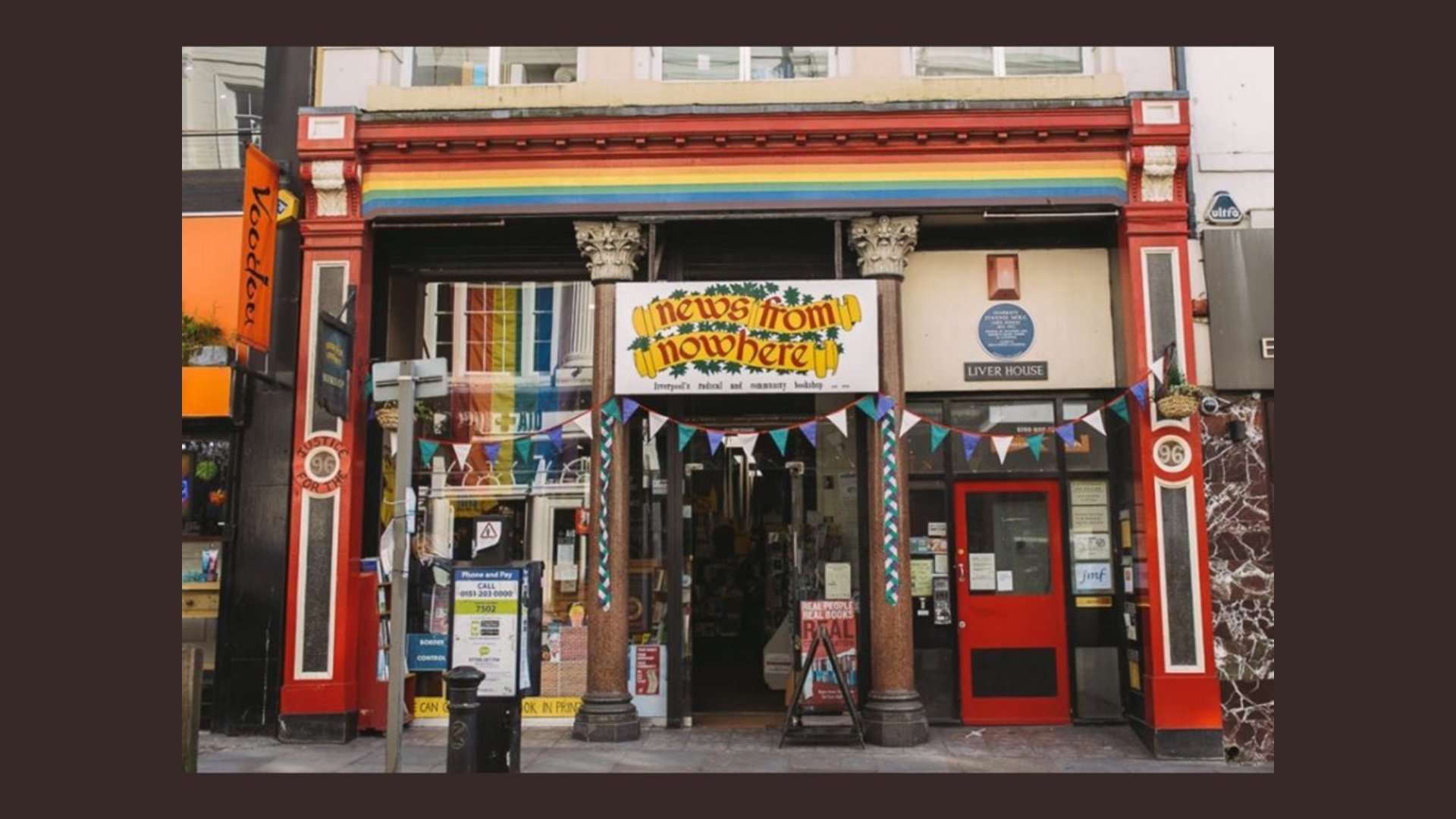 Liverpool's not-for-profit radical and community bookshop – established in 1974, and run collectively by a women workers' co-operative (which means no boss and no owner!). Follow the real Amazons on Twitter here
Owned and controlled by staff, members and customers, you can find them in the heart of Portswood's independent high street. They have a great selection of books as well as offering a range of eco-products. More than just a bookshop, they are local, radical and eco-friendly.
Opened in 2008, Pages of Hackney is a small award-winning bookshop on the Lower Clapton Road.A friendly, welcoming community bookshop that feels accessible and inclusive.
Pen'rallt Gallery Bookshop, Machynlleth
Pen'rallt Gallery Bookshop first opened on 24 May 2011, a year after we moved to Machynlleth from Nottingham. Diane is originally from Essex and Geoff from Aberdare, South Wales and now the shop is both our home and our business. We are located on the road into Machynlleth from the railway station, just a few doors from MOMA Wales, a major art gallery. Both of these are important connections for us. The bookshop has three rooms with level access throughout. The rooms have a regular display of works as a gallery space as well as books for sale and browsing.
One of Manchester's longest-running institutions, the Portico is a subscription library and newsroom whose historic collection of over 25,000 books and archives spans over 450 years. It also has a small bookshop.
Alongside our members' services, everyone is welcome to enjoy our free exhibitions; take part in our events and workshops; dine in our cafe; discover our history; and immerse themselves in our beautiful Regency-period building.
The Rabbit Hole is a new Independent Book Shop in Brigg, North Lincolnshire.
Follow them on Facebook here.
A second hand bookshop joining us for Feminist Book Fortnight. Located in the historic Peak District spa town of Buxton, they have more than forty thousand books for sale over five floors, as well as greetings cards, maps, prints, and sheet music.
A friendly little bookshop in a beautiful village in North Tipperary. You can find out more on their Facebook page.
Skylark – in the historic Needlemakers,  and one of the many independent Lewes shops since 2006 – combines a bookshop with a gallery. They have an emphasis on international writing, titles that combine superb prose with stunning design, and some  lesser known publishers' lists with clear personalities. They can also order any book you want of course.
Other participants:
Overseen by a dedicated team of volunteers, Nottingham Women's Library is a secret salvation, tucked away on the top floor of Nottingham Women's Centre.
The collection hosts a wide range of books, magazines, and articles by female authors, including rare feminist literature from the 70's & 80's. Any Centre user is welcome to browse the library or look at our library list via the collection website. Books can be taken on loan by Members of the Centre (more on that below!) The library is also a quiet place to sit and relax or feed a baby.
The shop at the Museum has lots of radical books and toys as well as other items. They will be focusing on feminist books for Feminist Book Fortnight. Watch their Twitter page for associated events.
The Women's Library @ LSE is England's main library and museum resource on women and the women's movement, concentrating on Britain in the 19th and 20th centuries. Here's their website
See the library's Twitter news here.
The supercool GWL is the only Accredited Museum in the UK dedicated to women's lives, histories and achievements, with a lending library, archive collections and innovative programmes of public events & learning opportunities. Check out their Instagram here
Outside the UK
Yes! The fab indie bookshop in beautiful Venice, Libreria Marco Polo, will be participating in FBF 2019 too. They have a full and innovative programme of events for FBF. Here's their insta.
*We appreciate your patience whilst this page is being updated